(Note writen in English from yours trutly to Twitter Inc, USA. below at the end of this post from Spain)
-Primer paso introducir a sus perroflautas en las redes sociales, twiter y facebook principalmente. Lo usual es hacerse pasar por usuarios genuinos, pero lo ideal es tener "comandos" en la propia organización de estas redes sociales.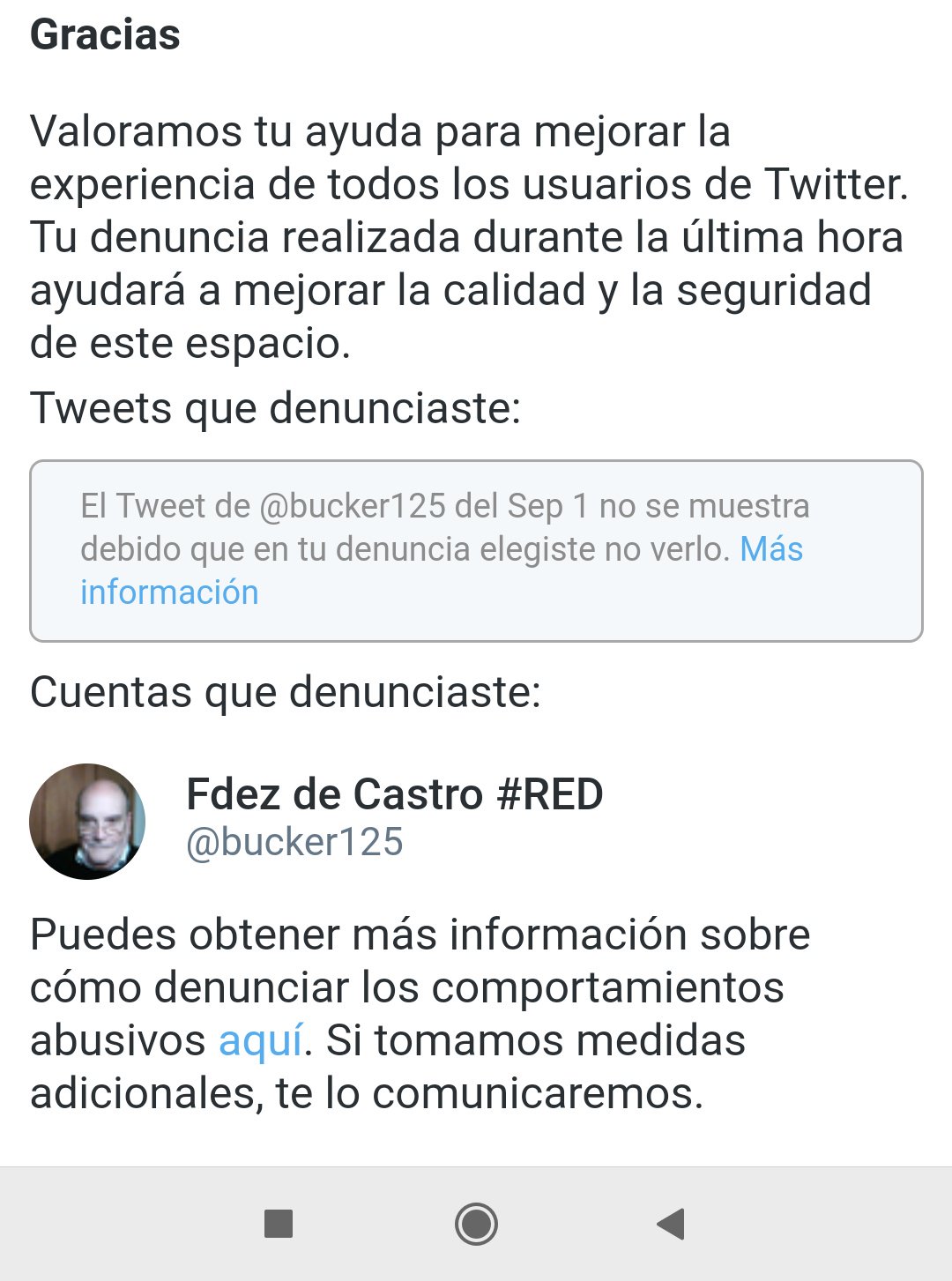 (Falsa denuncia y bloqueo atribuidos a una persona usuaria de tweeter con quien desde hace años nos seguimos mutuamente; advierte de la falsedad de la denuncia que se le atribuye a @TwiterSeguro y @TwiterEspana en los siguientes términos: "Yo no he denunciado NUNCA NINGÚN TWEET de @bucker125 -ah calla, que es un Sr de derechas y teníais que fastidiarlo"). 
-Estos podemizados perroflautas se dedicarían a vigilar a los usuarios más hostiles a su Dogma IslamoMarxista y a ellos mismos; siempre por este orden, ya que estos perroflautas son leales y sacrificados para con la causa Marxista Yihadista; también son sacrificables a los ojos de sus líderes, pero esto último los podemizados cánidos musicales no lo saben porque no se les dice. 
-Y esta vigilancia a usuarios se extiende con especial cuidado a los links o enlaces a blogs, webs, o prensa electrónica hostiles (a ellos), enlaces facilitados en tweets o comentarios en facebook.
-La habilidad y esfuerzo de bloquear una cuenta tweet, no ya como simple (y falso) usuario, sino haciéndose pasar por un usuario genuino, conocido, seguidor, y simpatizante de otro (la víctima del engaño), requiere conocimientos profundos de la propia RED (en este caso tweeter) y/o estar introducidos en Tweeter (a nivel al menos nacional), en calidad de supervisores o empleados de confianza de esta red social. 
-Asumiendo que Tweeter, cuya sede central estaba antes en California, y ahora en Delaware, y que lo que tiene en España sea o sean concesiones o franquicias, les doy a conocer a los americanos esta especie de sabotajes injustificados a mi cuenta, haciéndose pasar por otros usuarios genuinos y conocidos míos. Seguro que al menos como curiosidad les llama la atención, así que voilá, and excuse me my french…
To Twiter Inc………, From Felix Fernandez de Castro Garteiz (user @bucker125)
Because it can be of your interest, I'll tell you that I'm a user from Spain that links his blog (bucker125.wordpress.com) with my tweeter account. Got, from 2015, some complaints from friends and followers regarding fake tweets, supposedly from them, asking Tweeter (Spain) to block my account usually for the reason of me breaking Twitter Rules; the latest incident was dated on February 18 (screen printed above). Happens that the user who allegedly blocked me, tells me that he/she didn't; happens that I know this person from way back, years actually, and I know that is telling us the truth. If this concerns you, I hope it's useful for your company, and if not, so be it, and sorry. Extreme Left, of the Jihadist kind, is roaming freely in Spain with its CENSORSHIP of the social networks, especially Facebook (this probably doesn't concern you) and Tweeter (which maybe does). TKU for your attention and time, and sorry again for bothering you. 
Bie and Good Night (from Majorca, Spain, 23:20 hours, local time)
Y así por lo menos los americanos se enteran del troleo que tienen por aqui.