"Mira por donde, cuando un Tonto del Culo saca pecho, pilla una pulmonía" (Joao Camoens do Amonal)
"When a foul tries to get too smart, the only thing that gets for his effort it's his own ass kicked" (again Joao Camoens, more or less on the same lines as above)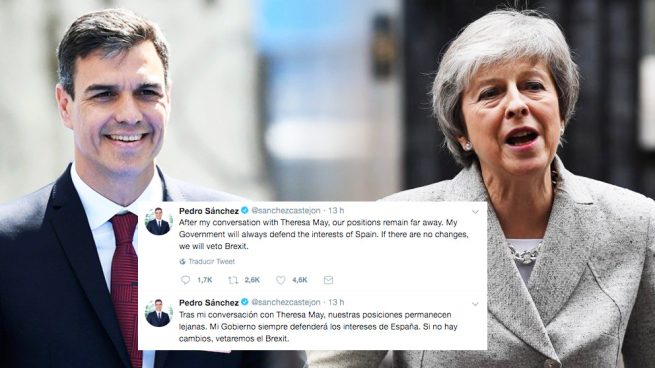 O, well, shit. With these Useless Eunuchs that try to pass as a government, Spaín's interests haven't a fucking chance, no even a sitting duck chance; so, in fair sportsmanship, we must congratulate Theresa May and by proxy, Fabian Picardo's Monkeys, that are Gibraltar's Subjects and/or Citizens. 
We must congratulate too Europe's Council for this New Utrecht Treaty, that is the Brexit agreement signed yesterday in Brussels by the Brits, the so-called European "Union" (why??) and a Spanish Government that it's not a real Government nor really Spanish; tough luck for Spain, and for us, Spaniards. 
Brits timing this time was perfect for Gibraltar Monkey Busines, cause no Country in the World has that many moronic authorities in its Administration, and at a given moment, than Spain right now. 
Not such a luck with Ireland & North Ireland, agreement harder to explain to the Brits than Gibraltar's Monkey Busines with (against) Spain's Asshole representatives. 
If we move Magaluf (in)Famous Balconies to Gibraltar, Brexit Tourists can even break their heads on Brexit's sidewalks soil, instead in Spain's, Catalonia's Republic o European's "Union" whatsoever Territory, no clear whose…with the added benefit of the show of Brexit Brits jumping from their balconies just for Gibraltar's Monkeys amusement.  
Taking advantage of idiots and morons it's not fair, but not exactly illegal, or as the Mayor Mental Eunuch Chief likes to say, not illegal, immoral, nor fattening; and even less original, if we look closely, we must add.