Zig & Sharko
( Zig y Sharko, el artículo en español más abajo)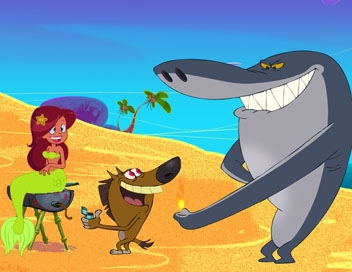 Starring…… Marina, Zig, and Sharko
A TV pleasant surprise, for a change, we had yesterday watching these french cartoons on American TV; not offered in Spain, and I'm quite sure neither in some others, equally political correct, European "Union" countries.
But here, at least in this State, Arizona, is possible, for minors and adults alike, to watch the Zig and Sharko cartoons legally…and without too much (if any) of the feminist or feminazi fuss. The standard plot for practically all of its 156 episodes consist in the "bad guy", Zig the hyena, trying to seduce and/or capture Marina, the beautiful and not so bright siren, and the "good guy", her loyal and chivalrous guardian-bodyguard, Sharko the Shark, frustrating each Zig's attempts. And the reason (of this cartoons) for both not being politically correct and so disgusting to feminists & feminazis is Marina: The siren is sexy, beautiful, frivolous, and…not exactly a rocket scientit.
And even for a cartoon character, that's not cool for the extreme left, nor for its feminazis…a sample video, and you'll know what I mean.
Y ahora en español…no hay como ser, si no bilingue, al menos bífido, y buen tema para una Crónica de Nueva España en Domingo puede ser el de unos dibujos animados, ZIG & SHARKO,
aptos para menores, inteligentes, educativos, e hilarantes; en los Estados Unidos, o por lo menos en Arizona, se pueden ver; en España (y otros países de la "Unión" Europea) dudo mucho que alguna emisora, pública (especialmente las autonotáificas) o privada, se atreva a emitirlos. La razón de esta timidez televisiva, o autocensura, está en el mismo argumento: el "malvado" Zig, cínica y sarcástica hiena, desea capturar o seducir a
Marina, la bella y TONTA SIRENA, y el "bueno", que es Sharko el tiburón, leal guardaespaldas y guardián de la sirenita, una y otra vez (156 episodios) se lo impide; aunque la superficial Marina, que no es precisamente Einstein, sea tan sólo un personaje de dibujos animados, las feminazis y sus aliados de la extrema zurdería se las arreglarían, aprovechando nuestro endémico DESORDEN democrático, para impedir, bien por vía judicial-legal, o bien mediante sus impunes  algarabías callejeras, su emisión …como es habitual, fastidiándonos de paso la diversión.
Vean este video de muestra…y verán a lo que me refiero.
Pasad buen Domingo…y desde estos videos del blog, podeis acceder a otros de Zig y Sharko que hay en Youtube, si os divierten.
In Arizona for Lucia, Luna, and Diego, my grandchildren.